Steiff Roloplan
---
The Steiff Roloplan was built from the Steiff company in WŸrttemberg (Germany),from 1909 until 1968. This kite is for a moderade wind.
An other Roloplan kiteplan you can find at Thomas-Michael Rudolph .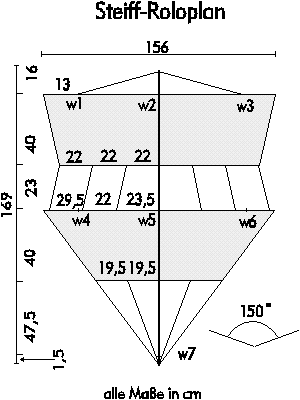 all measures in cm
materials:
1 x 200 cm CFK 8mm ¿
4 x 82,5 cm CFK 6mm ¿
2 Eddy connectors
2m fabric
dacron
lines for stretches
sail:
For the sails have a look at the plan. The cross-spars fit into sleeves. The spine doesn't needs a sleeve.
longerons:
spine 8 mm (6 mm are possible) CFK
cross-spars 6 mm CFK
use Eddy connectors for the cross-spars
stretches between the two sails:
use 7 lines between both sail (don't forget the line in the middle)
bridle:
seven bridle points (w1-w7).
length of the bridle lines:
w1 + w3: 122 cm
w2 : 94 cm
w4 + w6: 127 cm
w5 : 87 cm
w7 : 147 cm
after fine tuning the bridle needs no more adjustement. (At stronger winds use another kite.)
flying instructions:
Always a long start (with the help of a friend). Use a 40 daN flightline.
1997 Hilmar Rilling