3er Steiff Roloplan
---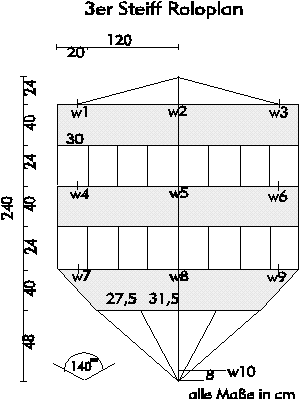 all measures in cm
materials:
1 x 240cm CFK 10mm (8mm) ø
6 x 120cm CFK 8mm (6mm)ø
2 connectors for the spine
3 connectors fot the cross-spars (Eddy connectors are possible )
ca. 4m fabrics
dacron
lines for bridle and sail stretches
sail:
For the sails have a look at the plan. The cross-spars fit into a sleeve.
spars:
spine 10 mm (6 mm possible) CFK.
cross-spars 8 mm (6 mm) CFK.
stretches between the three sails:
for the stretching points look at the plan
bridle:
10 bridle point (w1-w10). All bridle lines goes into one point.
lenght of the bridle lines:
w1 + w3: 247 cm
w2 : 201 cm
w4 + w6: 234 cm
w5 : 184 cm
w7 + w8: 243 cm
w9 : 193 cm
w10: 231 cm
After fine tuning don't chance the adjustment of the bridle.
flying instruction:
always a long start
flight line 80 daN (160 lb)
© 1997 Hilmar Rilling