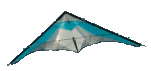 Materials for building "Le Virus"
On this page you'll find the list of materials needed to build your Virus.
---
Sail
This is the list of materials you will need to make the sail of Le Virus.
Icarex or other light polyester or nylon sail fabric
Mylar-foil (part of the sail-pattern, spine, wingtip and standoff)
50mm wide dacron, total length of 400cm
Nose-material: dacron, kevlar, seatbelt webbing
25mm (1") ripstop for the trailing edge, total length of 400cm
LE tensioning stuff: bungee, cable ties, bridle cord or your other favourite method
TE tensioning: Dyneema/spectra line, 350cm
Frame
There are already a number of possibilities to frame your Virus. The standard version is given first, others are described later.
Standard
Spine Exel 6mm Extreme 78cm 1x
Upper Spreader Exel 6mm Extreme 50cm 1x
Leading edge Exel 6mm Extreme 137cm 2x
Lower spreader Skyshark 5PT 73.5cm 2x
Center Tee ferrule Skyshark 6.1mm 10cm 1x
Stand-off Avia Carbon 3mm - .118 22.3cm 4x
Batten Avia Carbon 2mm - .80 7cm 2x
Structil based
An alternative version from Alain Gigon. To quote Alain: I have substituted the Exel Extreme frame with Structil. Structil is lighter, around 15gr less than Exel Extreme for the whole frame, and does not flex as much as Exel Extreme. Le Virus with that frame will start to fly in quite low wind around 2Mph and will not flex too much in high wind around 18-20Mph. The trade-off is: less momentum without weight.
You need the following materials to make a Structil version.
Spine Structil GuipX 6mm 78cm 1x
Upper spreader Structil GuipX 6mm 49.5cm 1x
Upper leading edge Structil GuipX 6mm 82.5cm 2x
Lower leading edge Structil GuipX 6mm 52.5cm 2x
LE Plugs Avia Fiberglass 4mm - .156 10cm 4x
LE ferrule Benson 6mm 2x
Fitting
You will get good results with this list of connectors. If they aren't available, don't hesitate to use another brand.
Center Tee R-Sky 6x6mm 1x
ULE connectors APA A (Tight) or APA B 2x
LLE connectors APA A (Tight) or APA B 2x
Sail/Stand-Off R-Sky 3mm 4x
Spreader/stand-Off APA .250 2x
Yoyo stopper R-Sky 6mm Hard 2x
End caps stand-Off 3mm - .109 4x
End caps spine 6mm - .203 2x
End caps ULE 6mm - .203 2x
Nocks Avia/FSD 6mm 2x
Stopper spine 6mm 2x
Stopper ULE 6mm cut endcaps 2x
Stopper LLE 6mm cut endcaps 2x
Spectra Bridle Line Laser Pro 170Lb 6m/20 foots
Last modified: Wed Oct 20 21:09:01 CEST 2004